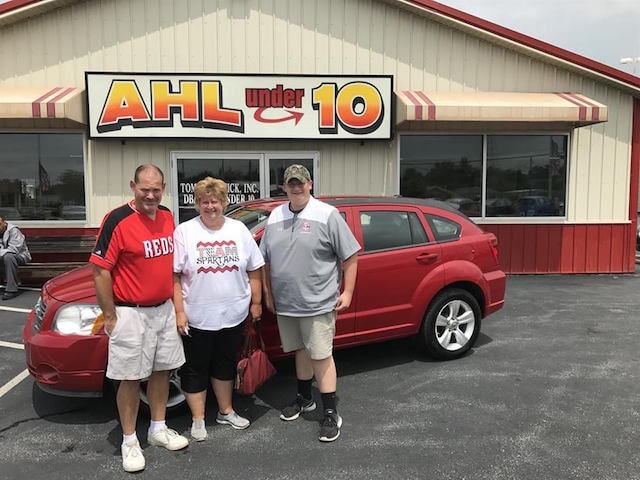 We understand buying a new car can be a difficult process. However, our Lima finance center doesn't believe that it needs to be that way! At Ahl Under 10, we think it's more important for our clients to get the car they always wanted for a great value. When Tom Ahl created his dealerships, he built it on a strong foundation for the love he has for his community. Our used car dealership takes this philosophy seriously and extends its compassion to all shoppers. We named a few reasons why you should choose us as your used vehicle dealership.
Your Favorite Brand is Right Here
With a wide-ranging inventory, we have so many of people's favorite brands located at our dealership! Whether you need a reliable brand that gets you from point a to point b, or if you want to experience the ultimate luxury of owning a prestigious car brand, the choice is yours! Maybe you prefer the adventure that comes from RAMs, Dodges, or Jeeps: we will have just what you're looking for. Not only that, some of our models will still have incredible features like heated seats, navigation system, parking assist technology, sunroofs, and satellite radio!
Ahl Under 10k
It's in the name and it's what our dealership stands by proudly: all our vehicles are under 10k. This will help you remarkably when you are making your final decision for your vehicle. In addition, our finance department is here to help you find a payment plan that works with your budget. With years of experience working with multiple funds, our finance team works endlessly with banking institutions to score you the deal that you are comfortable with. We'll also help Lima shoppers speed up the process and find out what their credit score is by having them fill out a finance application online.
Live Market Pricing
Ahl Under 10 utilizes Live Market Pricing. This is a system where we look at the area's pricing for a specific model and ensure those vehicles are lower. That way, you can guarantee you are getting the best price at our used vehicle dealership. We want to be fair to our customers and have no interest in making them pay more when it is not necessary!
Monthly Specials on Lima Used Car Inventory
We like to have monthly specials for the cars on our lot. We encourage you to take advantage of them because they will be some of the best prices you will see for that vehicle! Don't worry, quality will never be a concerned for shoppers. All of the vehicles on our lot go through a rigorous inspection so you can feel confident driving on the road with your new ride.
We also encourage drivers that have a vehicle currently, to trade it in. This will help ease the down payment, maybe even cancel out you taking out money for it! Additionally, it makes the car-buying process less stressful because this puts more cash in your pocket (where it belongs).
Our finance team has had years of experience and is ready to work with you to get your next vehicle. If you have any questions, call (888) 348-4131 or contact us today!