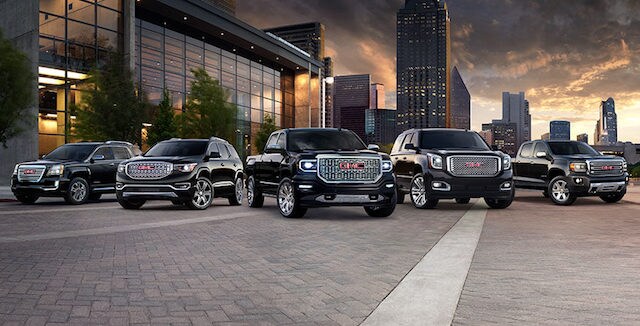 GMC was founded by General Motors, who has been playing a pivotal role in the global auto industry for more than 100 years. It goes all the way back from driving carriages to the current GMC powerhouse lineup, GMC has always excelled in putting the world on wheels. Drivers near Fort Wayne can count on our used GMC inventory to not only get them from point A to point B, but cruise in style and comfort. Furthermore, every GMC is engineered with a power-hungry engine, ready to do the work you need or give you the excitement you crave on the open roads! What happens when you buy a GMC?
You Become Part of a Rich History
GMC models were built for the test of time. Even from its humble beginnings, these cars were outperforming their competitors easily. For instance, in 1916, a GMC truck crossed the country from Seattle to New York City in 30 days. This was unheard of during that time! GMC built its reputation on being strong and reputable vehicles that could handle any heavy duty job.
GMC is a proud corporation in America and always stuck by them when they were needed. GMC created 600,000 trucks for the United States Army during WII. It's efforts today are put towards creating sustainable communities, improving hometowns in America, improving road safety, and advancing STEM education.
Reliability and Safety When You Need It
From J.D. Power to the IIHS, GMC models are among the top picked for reliability and safety. The Acadia, Canyon, and Sierra have great safety ratings. Furthermore, J.D. Power rates this brand as have terrific reliability and practicality. No matter what age your GMC is, you can take comfort in knowing you are surrounded by protection and will not find yourself stuck on the road somewhere.
Welcome to Your New Oasis
One of the most defining features of GMC models is that they all come with an elegant and refined interior. From the aggressive pickups to the comforting sedans, each of them provides an interior that all can enjoy. You can certain GMCs have leather seating that can be heated, luxurious finishes along the doors and dashboard, soft-to-touch materials, and more! Comfort does not only depend on the type of seat your sitting on, but also how spacious the interior is! Fortunately, the cabin room inside any of our vehicles will provide enough room for the tallest and the smallest.
When you want to become part of the GMC family, come down to Ahl Under 10 to find a vehicle that fits your needs. To contact us, please call (888) 348-4131.
View Used GMC Inventory